Gatsby Jazz Band Hire - 1920s to 1930s Jazz & Swing for Somerset Weddings & Events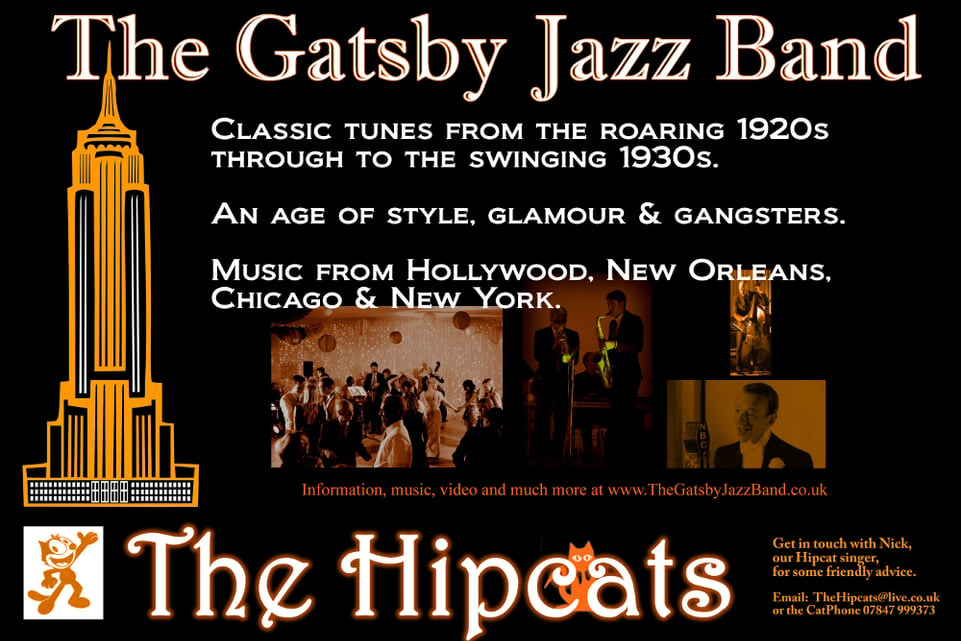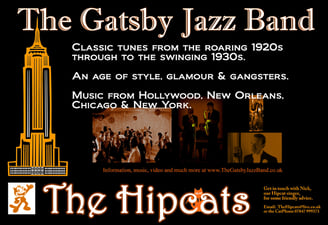 Hire THE Gatsby Jazz Band - The Hipcats - for your 1920s or 1930s event in Somerset.
Based in Somerset, we are specialists in the classic jazz & swing from this fabulous period and have a collection of classic tunes from the likes of George Gerswhin and Cole Porter which are guaranteed to give you and your guests a fantastic time and bring that wonderful feel of this glamorous era.
We have performed at university graduations, 60th birthdays, weddings & corporate events across Somerset and beyond - the music brings a smile to the face and gets those dancing feet dancing.
We have a perfect blend of music for all ages for any event from 1900 to the 1940s - Peaky Blinders, Gatsby, Gangsters, Prohibition, New York, New Orleans, Hollywood and so much more.
We have been featured on the BBC and ITV, we have appeared on Don't Tell the Bride, and we are trusted by wonderful clients, hotels and venues across Somerset. Trusted, professional and friendly - get in touch today.
VIDEO - our upbeat line-ups are perfect for evening weddings and events in Somerset. Chat to us about the perfect one for you.
VIDEO - our smaller line-ups are great for drinks receptions and events in Somerset - we also have a fully acoustic band that can play almost anywhere!
We would love to hear from you to chat about details. In terms of prices, we usually range from £500 to £2500 and this is dependent on a few things including timings, band size, etc.
Click here for more information on Prices
If you would like to have a helpful and friendly chat with Nick, the Band Leader, then he would LOVE to hear from you. He has great experience of a range of events and is always happy to offer any advice or to talk through ideas.